Discussion Starter
·
#1
·
This will be pretty long story...
I'd like to show You my first ever murcielago LP640 built to SV which I and my team were worked on. I bought this car in 2015, It was Standard LP640 roadster in blue monterey colour. It had some fauly electronics, so bought is as a project car. We have cleand all the wires, connectors and changed some modules, so brought back to working shape.
But a year later my father bought LP670 SV UR. Then this project really started! We have taken apart our Original SV to make the moulds from it (I introduced myself to the group saying that we work with supercars, selling parts, repairing, and producing carbon fiber parts for them).
Making moulds took us in the end more than a Year. We started from the front and rear bumpers only. Thinking that we will make only those 2 parts including rear panel between rear fenders, but during the works I decided to go deeper, with front fenders... Then The interior was prettty standard, so started doing all the small carbon parts in there. Next decided to go for door panels, and bucket seats. Finally redo the standerd center tunnel in clear carbon so the interior was also completed
Once we started fitting the parts on the car we found out, that there's much more to do. Air conveyors under front bumper do not fit, the plastic in the front trunk is also too deep and do not allow fit the bumper. Tailpipe and off course bumper grilles needs to be done. All the brackets for SV rear bumper are different, so had to develop those parts anyway.
I seen few companies in the internet who selling SV look'a'like parts but in the end, they are handmade parts with inspiration from the SV look, in the end they are competely different curved shaped and mainly missing all those underneath parts to do the complete work.
We finished the works in middle of 2019 so took us 3,5 year to do this prject on the parts made from scratch.
Here I am uploding a movie about it, and below pictures:
Finally, we have made:
Exterior:
Front bumper with Lower splitter painted in black matt
Front bumper grilles
Front fenders with air vents and grilles
Rear clear carbon panel between rear fenders
Rear clear carbon big wing
Rear clear carbon bumper with aluminium grilles and black matt accents
Tailpipe
Satin matt painted accents on side sills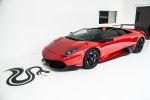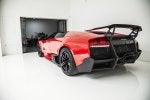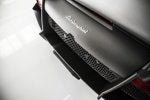 Interior:
Clear carbon kickplates
Clear carbon door panels
Clear carbon bucket seats with diamond stitching pattern
Clear carbon center console
Clear carbon center console inserts
Clear carbon instrument frame
Clear carbon gear paddles
All leather elements stitched in black alcantara:
Dashboard
Side sills panels
Steering wheel
Door cards insterts
Seats
Rear wall panels