Hi guys,
I am excited to announce the arrival of my Aventador S. I love my Huracan but this big bull is definitely on another level. Here are a few key points that might help someone who is looking to make the switch.
Daily drivability : Huracan is much easier to drive as a daily. Aventador is much more raw. Much better at higher speeds. Not so good in traffic and a bit jerky at lower speeds. Shifts after 5 to 6K rpm becomes smoother.
Doors: Huracan doors take more room to open. I like AV doors as you can still open them in tight spots.
Storage: Huracan is better as it offers some storage and a cup holder. AV only have a glove box.
Sound: Huracan sounds good as I have the race exhaust on mine but the V12 sound is on another level.
Suspension: Aventador rides better than the Huracan on stock suspension. Huracan seems stiffer.
Handling: I don't know if the rear wheel steering has anything to do with it but Av seems much more planted on the road and sharper around the turns.
Overall it definitely feels more special compare to the Huracan. It's a big car and definitely feels like it but can be very agile when going fast. I love it and in my opinion if you can experience both then definitely go for it.
Thanks to everyone on this forum for all the information and inspiration that you guys provide.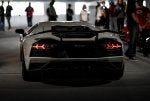 Mods coming soon