Forum Member PDISME asked me to share this detail that I performed on his Lamborghini Gallardo. I hope you guys enjoy. I figured it would provide some good tips to how true, high quality, high level detailing is carried out. Not to mention some nice pictures of a Lamborghini.
As previously defined several months ago in La Bella Firma by Bella Macchina(
La Bella Firma by Bella Macchina (100+ pics/video) - Autopia.org
) 's, the La Bella Firma is the most exclusive, most thorough, and most comprehensive detail offered by Bella Macchina: The Art of Detailing. La Bella Firma roughly translates into Our Beautiful Signature. To be signed as Bella Macchina (Italian for beautiful car) to me represents more then the experience, talent, science, and sweat involved into perfecting of every square inch of the car, it means art.
I was very excited to apply this standard on a modern car as previous La Bella Firma services have always been applied to classic Ferraris; which in many ways is a completely different challenge. I was curious to see a new car done with the same standard. This particular Gallardo is a 2006 Spyder which sees laps sliding all four tires around several race tracks in Florida. In two years the Lamborghini has covered over 8000 miles on both the road and track.
Automobile
.
Launched in 2004, the Gallardo (/ɡalˈlaɾdo/) aimed a finely tuned bulls-eye on cross country rival Ferrari. Unlike Ferrari's surgical scalpel 360 Modena, Lamborghini set forth with a brute machete'. Where the Ferrari cuts corners with precision, the Lamborghini snorts pure Dianabol from its famous logo's nostrils and charges forward, attacking the corners with more anger. With a larger 10 cylinder engine (5 liters vs Ferrari's 3.6 liter V8), 90 more horsepower, and a rear biased four wheel drive system, the Gallardo focuses on pure testosterone and brags about bench press numbers. The Ferrari is a gymnast who prefers wine; The Lamborghini is power lifter who likes to chug beer.
The Gallardo was penned by Luc Donckerwolke who also penned the Lamborghini Murcielago (and won awards for both). The Spyder (which Lamborghini refers to as a separate model) was released in 2006 and featured numerous improvements over the coupe based model including more power (513 horsepower vs. 492) to better separate the herd from the improved and more powerful Ferrari F430 (483 horsepower).
This particular 2006 Spyder is painted in gorgeous Arancio Borealis, which is slightly tangerine with a pearl flake added for good measure. The interior is in Nero Porseus with orange stitching and piping. Larger Girodisc rotors have been fitted (solid vs. cross drilled) to withstand the track abuse better. Softer, more aggressive Pagid brake pads mate the stock calipers to the larger rotors. The owner went to great lengths (even driving the car around with out the rear!) to test various exhaust systems and ended up with a RSC Tuning full titanium exhaust that shave 50 pounds from the rear of the car and increased the quality of sound tremendously (the car can be heard on the video clips at the end of this write up).
Detail
.
The owner warned me that the car was a "little dirty" and needed a good clean up. After a couple discussions we decided to make it perfect and selected La Bella Firma. I planned out 3 to 4 days to make this happen and all work was completed on sight within my client's garage. (This was also the first time I have done this service fully mobile, which proved challenging in it's own regard). The detail was broken down into the three phases: Cleaning and Detoxification; Correction; Detailing, each to be carried on as long as necessary over four days of allotted time (roughly 50 hours where set aside). In the end the goal was to use my experience and passion to transform this Lamborghini into something perfect: Art.
Day One.[/SIZE]
Cleaning,Decontamination, Detoxification.
The owner had warned me, this automobile was dirty!
Several species of insects had met their end between this bull's nostrils.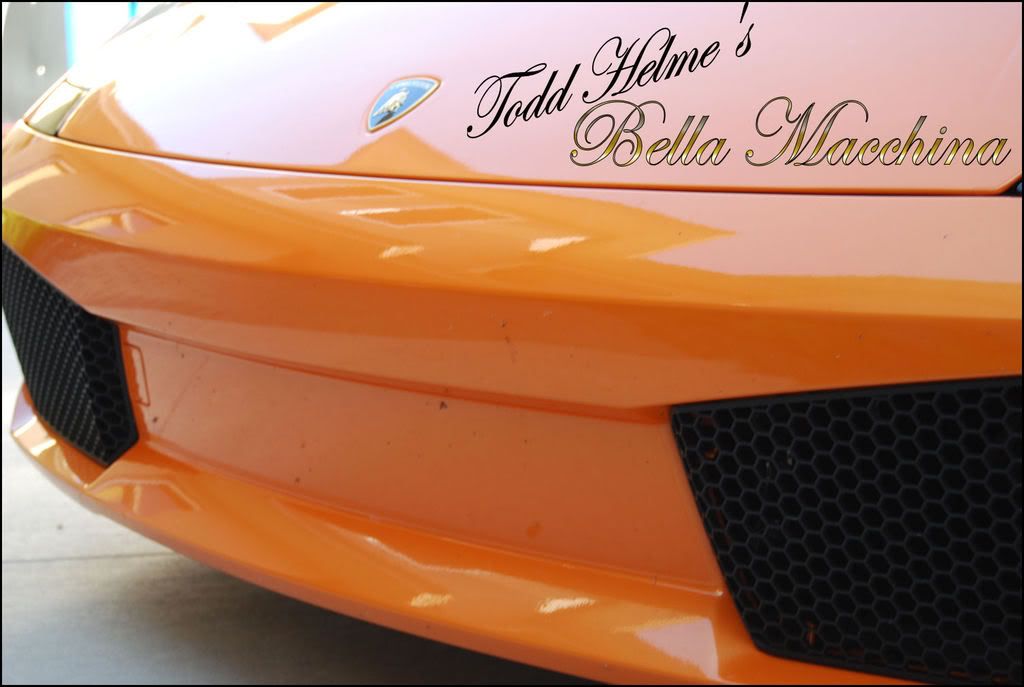 Tar and grease where plastered in the wheel compartments and along the sides.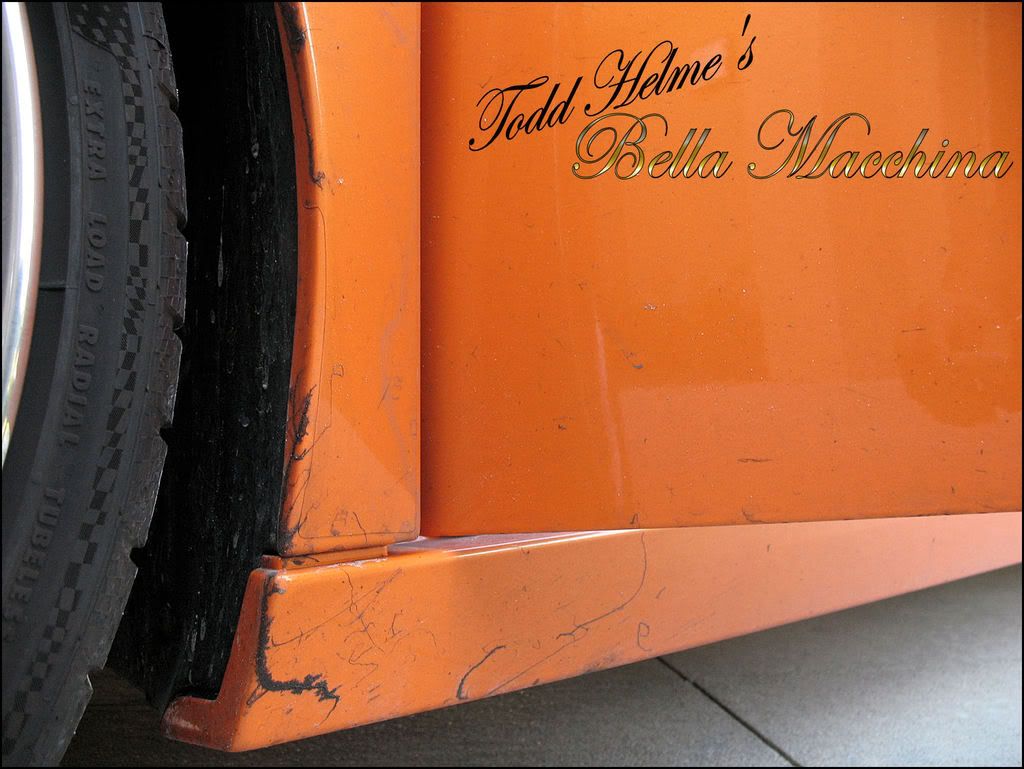 Soft, aggressive Pagid break pads combined with aggressive ensured plenty of brake dust. It looked like ash fallout from a volcano covering the land as the orange of the painted GG wheels was barely visible.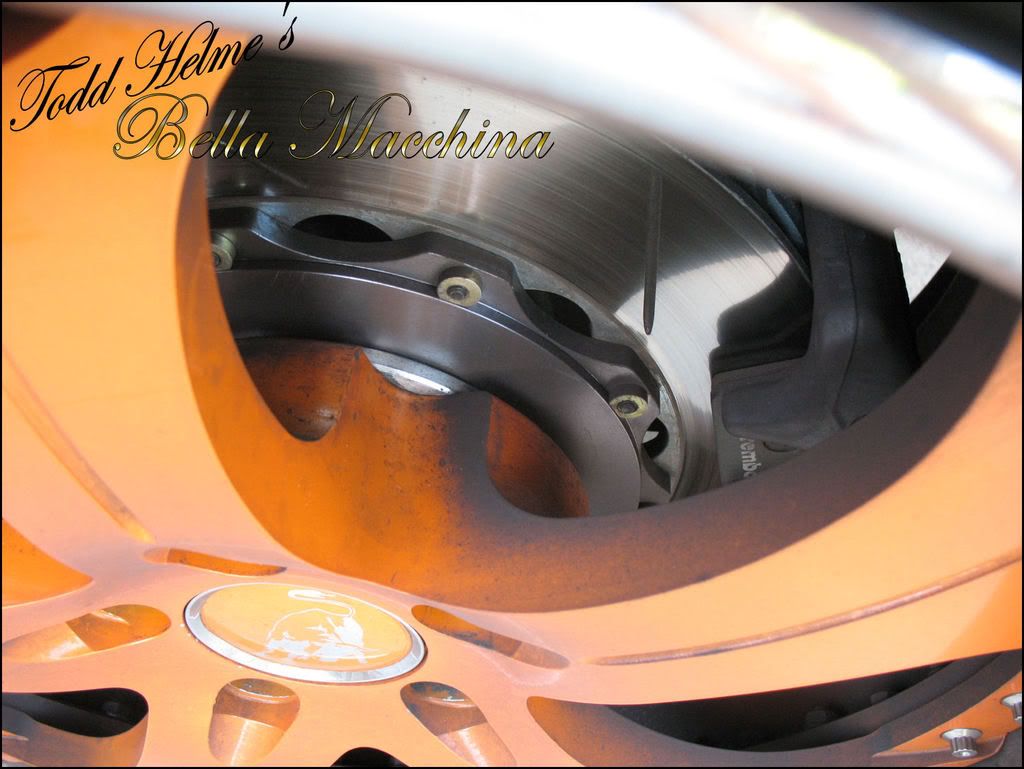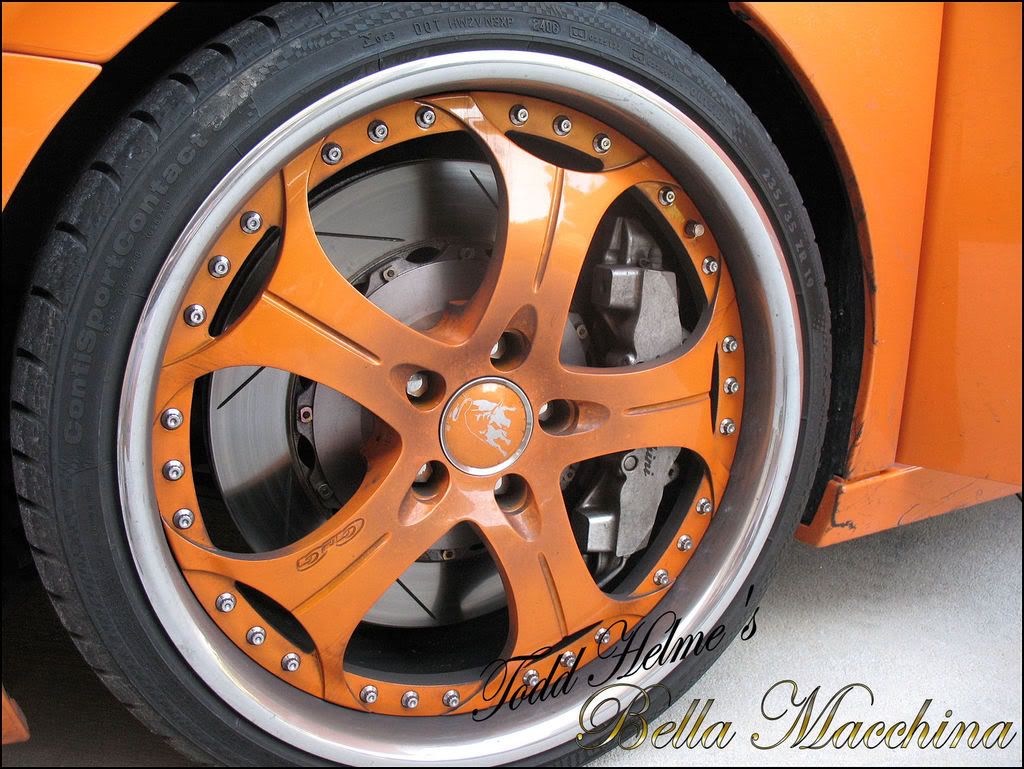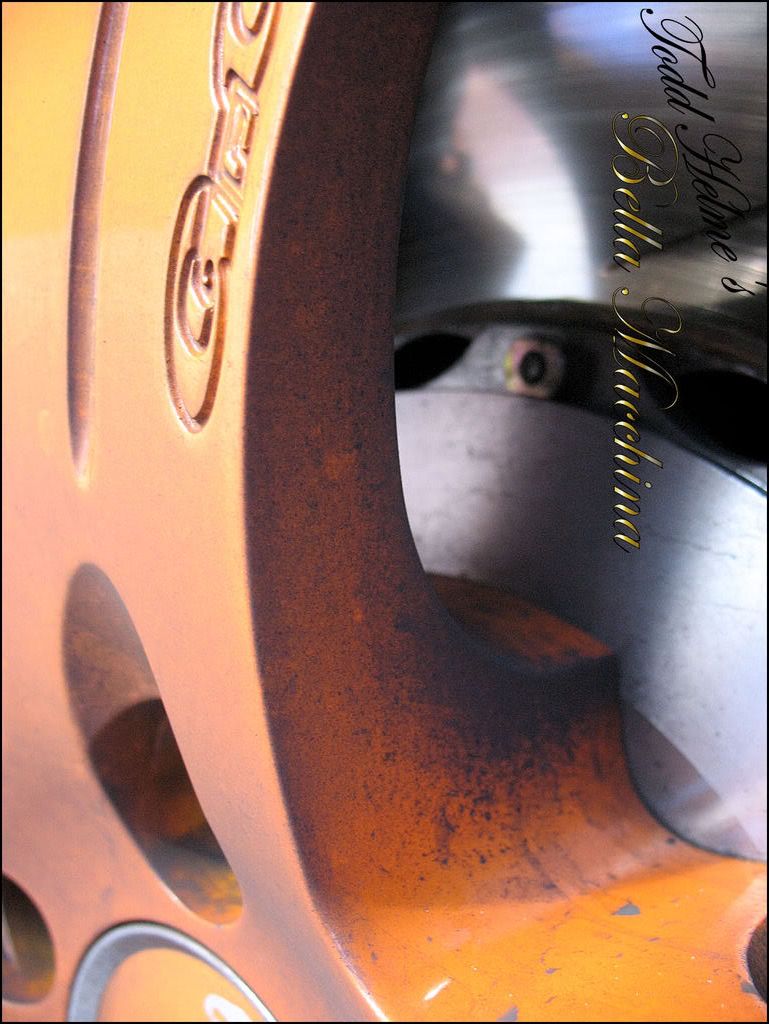 The door shuts did not fare much better.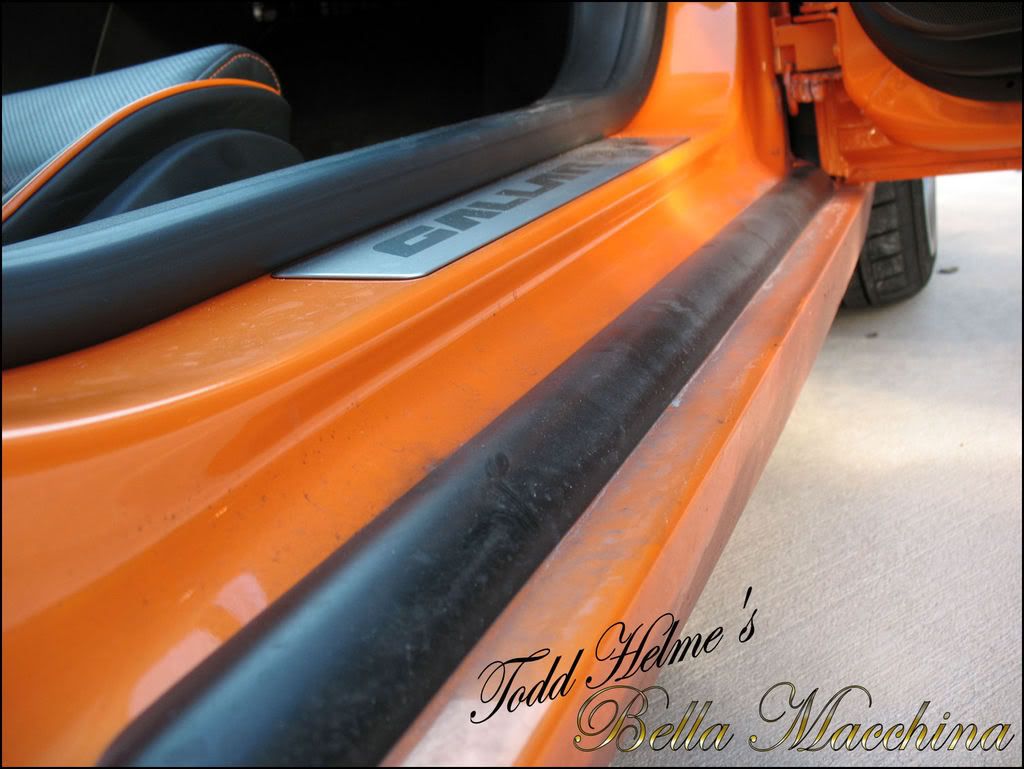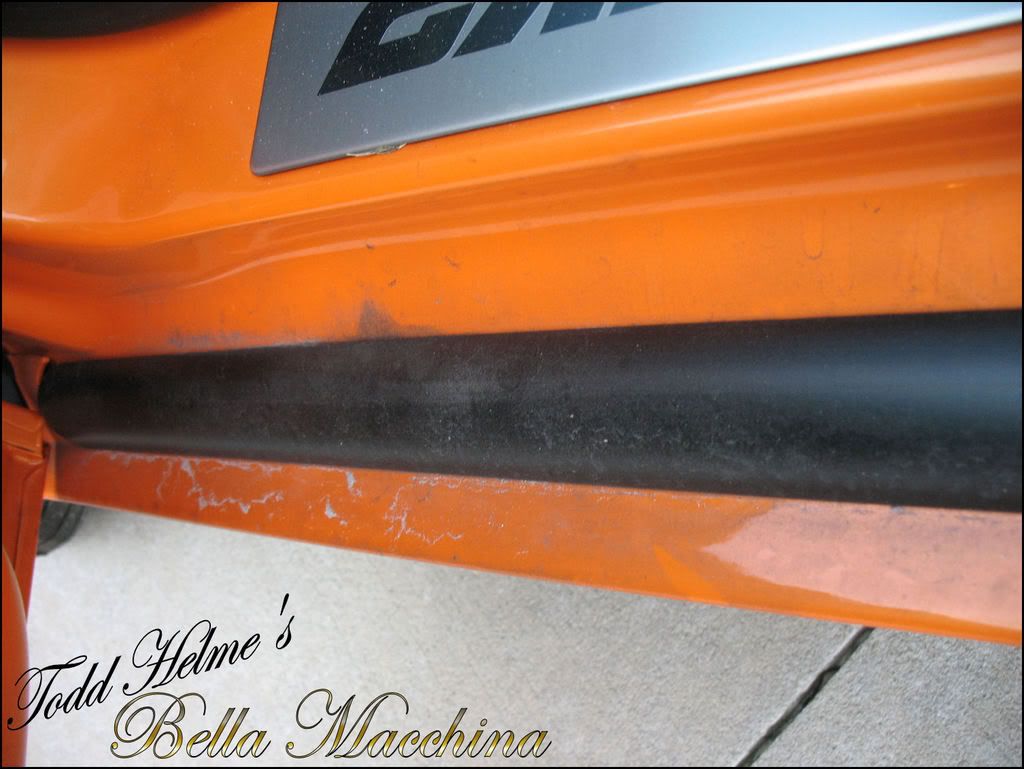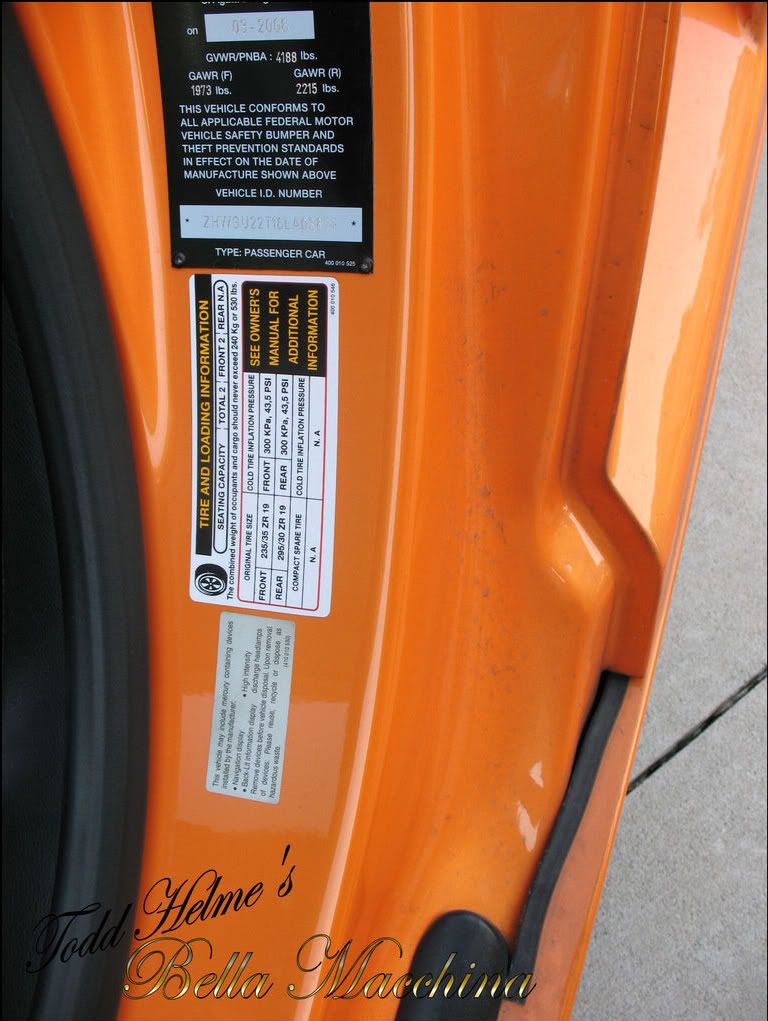 The interior would also need my full attention. Grime and grease covered some of the buttons.